Webinar on "Banking Advancements for Aspiring MSMEs in 2023"
June 4
@
9:00 am
–
11:00 am
Date: 04th June, 2023
Timings: 09:00 AM TO 11:00 AM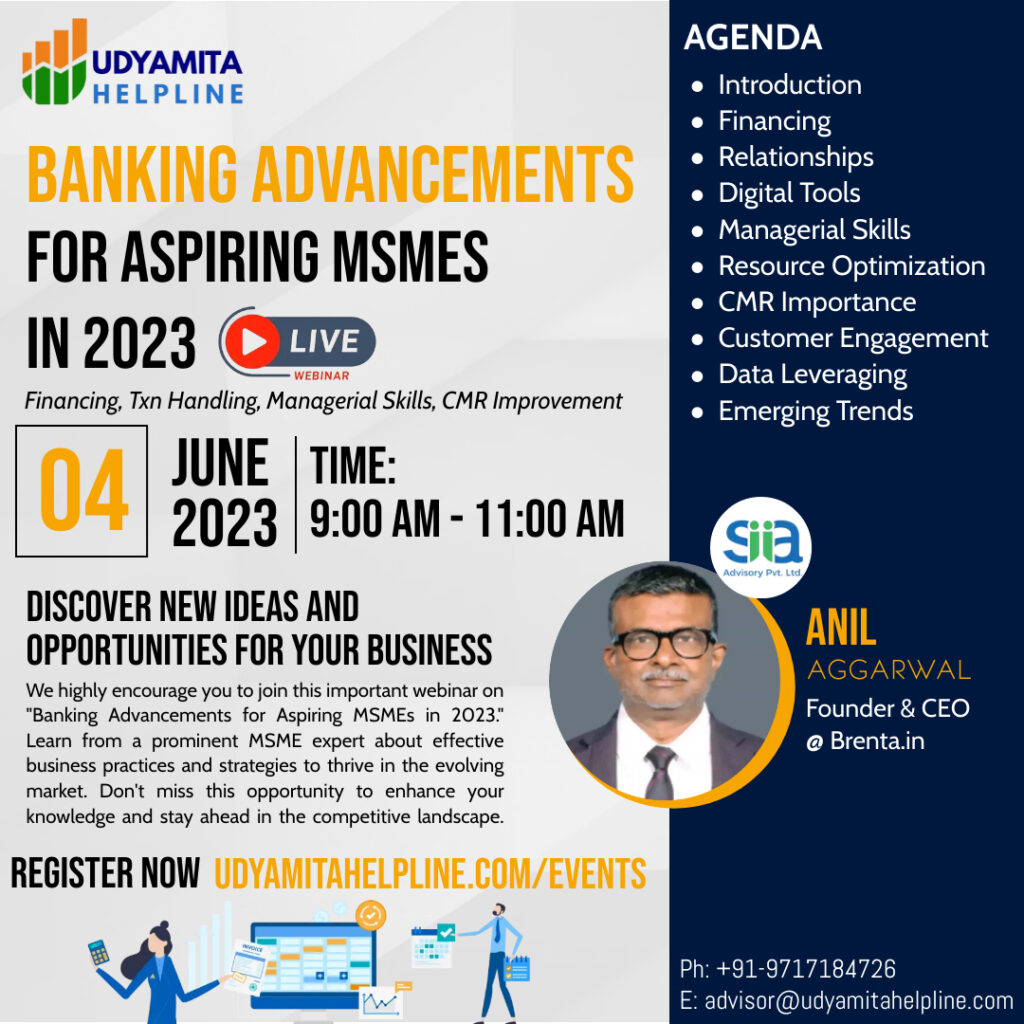 UDYAMITA HELPLINE, with a view to educate MSMEs on a large scale and to provide effective measures to their problems, is organizing a Webinar on "Banking Advancements for Aspiring MSMEs in 2023" on June 04th, 2023
The webinar on "Banking Advancements for Aspiring MSMEs in 2023" aims to shed light on the evolving landscape of banking services tailored specifically for Micro, Small, and Medium Enterprises (MSMEs). In today's rapidly changing business environment, MSMEs play a vital role in driving economic growth. This webinar will focus on crucial aspects that can empower aspiring MSMEs to thrive in the competitive market. It will delve into financing options, exploring innovative ways for MSMEs to access capital and secure funding for their ventures. Additionally, the webinar will address transaction handling, equipping participants with the necessary knowledge to efficiently manage their financial operations and navigate the complexities of digital banking. Recognizing the significance of strong managerial skills, the webinar will provide valuable insights into effective leadership, strategic decision-making, and optimizing resources to achieve sustainable growth.
Furthermore, the webinar will emphasize the importance of Customer Relationship Management (CMR) improvement, highlighting strategies to enhance customer engagement, loyalty, and satisfaction. By attending this webinar, aspiring MSMEs can gain a comprehensive understanding of the latest advancements in banking services, enabling them to harness these tools and techniques to propel their businesses forward in 2023 and beyond.
The Agenda:
Introduction to banking advancements for MSMEs.
Exploring innovative financing options for aspiring MSMEs.
Building strong relationships with financial institutions.
Leveraging digital tools for efficient transaction handling.
Enhancing managerial skills for MSME success.
Optimizing resources for sustainable growth.
Understanding the importance of customer relationship management (CMR).
Strategies for improving customer engagement.
Leveraging data for CMR improvement.
Adapting to emerging banking trends.
These concise agenda points provide a high-level overview of the key topics that will be covered during the webinar, focusing on financing, transaction handling, managerial skills, and CMR improvement for aspiring MSMEs in 2023.
This webinar is expected to last for about 2 hours and will be addressed by an eminent speaker Mr. Anil Aggarwal, Finance Expert. He has36 yrs. of Banking Experience with leading PSU n PVT Bank as Business Banking Head Delhi NCR, Circle Head Branch Banking Raj, MSME Head Delhi NCR, Supply chain Finance Head North, Commercial Banking Head Rajasthan. Key Skill Areas – Trade Finance, Forex, MSME Financing. Key Ach exponential growth in Market Penetration n Client Relationship.
The Webinar shall be moderated by Ms. Richa Bhardwaj, Advisor at Udyamita Helpline.
We highly encourage you to join this important webinar on "Banking Advancements for Aspiring MSMEs in 2023." Learn from a prominent MSME expert about effective business practices and strategies to thrive in the evolving market. Don't miss this opportunity to enhance your knowledge and stay ahead in the competitive landscape.
Please register at the following link to join the webinar as pre-registration is mandatory
Free Registration Link: https://bit.ly/udyamitahelpline74
Richa Bhardwaj
9717184726
advisor@udyamitahelpline.com
msme loan scheme for new business | government schemes for msme | government schemes for msme | who is eligible for msme loan | government subsidy loan for business | how to apply for msme loan from government | msme loan subsidy | msme loan subsidy | national small industries corporation |