Webinar on "Creating a Powerful Brand & Building an Exceptional Digital Presence with Your Website"
August 4
@
4:00 pm
–
6:00 pm
Date: 04th August, 2023
Timings: 04:00 PM TO 06:00 PM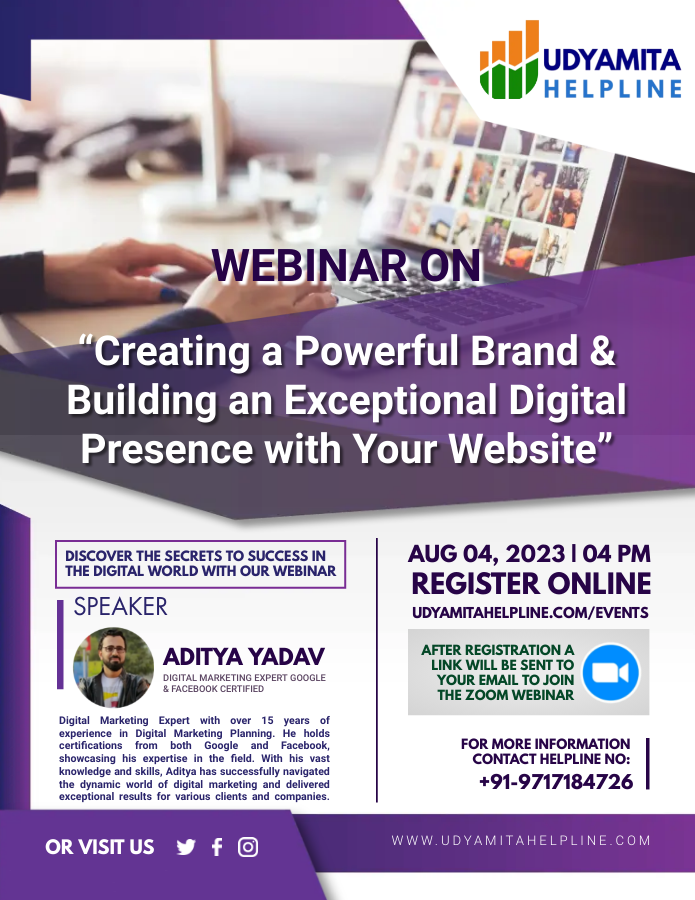 UDYAMITA HELPLINE, with a view to educate MSMEs on a large scale and to provide effective measures to their problems, is organizing a Webinar on "Creating a Powerful Brand & Building an Exceptional Digital Presence with Your Website for Your Business" on August 04th, 2023

Discover the secrets to success in the digital world with our webinar on "Creating a Powerful Brand & Building an Exceptional Digital Presence with Your Website for Your Business." In this session, we'll guide you through the key steps to craft a compelling brand identity that resonates with your target audience, evoking emotions and building trust. Learn how to optimize your website with intuitive navigation, captivating visuals, and persuasive content, transforming it into a potent tool for attracting and retaining customers. Don't miss this opportunity to unlock the true potential of your brand and website, propelling your business to new heights in the competitive digital landscape.

Gain valuable insights on maintaining a consistent brand message across online platforms, leveraging social media for increased visibility, and optimizing your website for search engines. Whether you're a startup or an established business seeking to enhance your online presence, this webinar is tailored to help you achieve outstanding results. Mark your calendars and embark on the journey to success with us!

The agenda for the event will be as under:
Understanding the Importance of Branding
Crafting Your Brand Identity
Building Your Brand Strategy
Leveraging Your Website as a Branding Tool
Optimizing User Experience (UX) for Brand Loyalty
Monitoring and Measuring Your Brand's Performance
Case Study: Successful Branding Campaign Analysis
Q&A Session
This webinar is expected to last for about 2 hours and will be addressed by an eminent speaker Mr. Aditya Yadav, Digital Marketing Expert Google & Facebook Certified, is a seasoned Digital Marketing Expert with over 15 years of experience in Digital Marketing Planning. He holds certifications from both Google and Facebook, showcasing his expertise in the field. With his vast knowledge and skills, Aditya has successfully navigated the dynamic world of digital marketing and delivered exceptional results for various clients and companies.

The Webinar shall be moderated by Ms. Richa Bhardwaj, Advisor at Udyamita Helpline.

Join the webinar by an expert MSME to learn how to create a powerful brand and build an exceptional digital presence with your website. Don't miss out – register now!

Please register at the following link to join the webinar as pre-registration is mandatory
Free Registration Link: https://bit.ly/udyamitahelpline80
Richa Bhardwaj
9717184726
advisor@udyamitahelpline.com
msme loan scheme for new business | government schemes for msme | government schemes for msme | who is eligible for msme loan | government subsidy loan for business | how to apply for msme loan from government | msme loan subsidy | msme loan subsidy | national small industries corporation |