Webinar on "Government E Marketplace (GeM)"
January 7
@
4:00 pm
–
6:00 pm
Date: 07th January, 2023
Timings: 04:00 PM TO 06:00 PM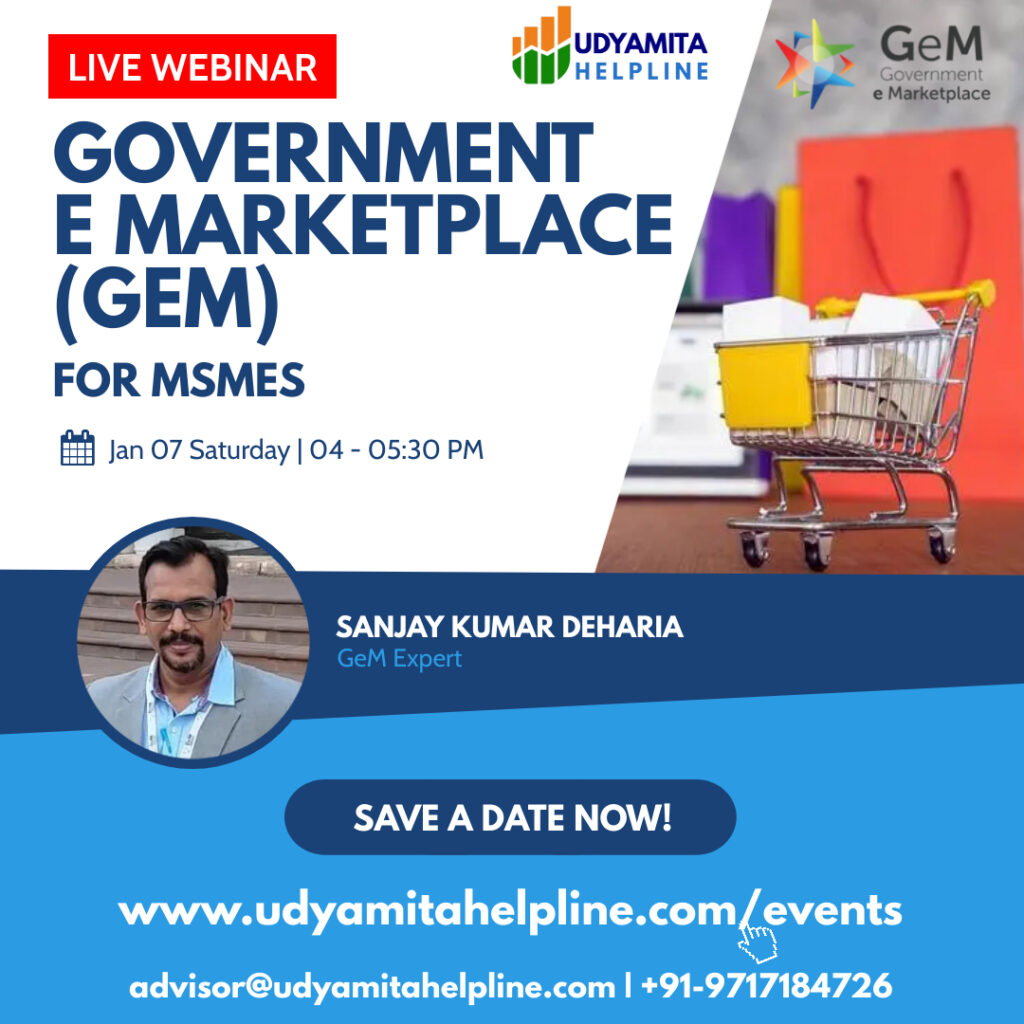 UDYAMI HELPLINE, with a view to educate MSMEs on a large scale and to provide effective measures to their problems, is organizing a "Webinar on "Government E Marketplace (GeM)" on January 07th, 2023.
GeM portal (Government e-Marketplace) is an online portal launched by the Government of India The main aim of introducing GeM Webinar to enhance transparency, efficiency, and speed in public procurement as well as employment after the Budget announcement of 2022-23. The seller as well as buyer can buy or sell their products to the government. The main objective of the GeM Webinar is to ensure transparency and effectiveness for the GeM portal.
GEM registration helps to authorize the manufacturer, small dealers and service providers to enter the wide and interactive online platform, it enables the authorized governments to buy the goods and services directly from the private traders and manufacturers instantly and hassle-free.
Topics to be Cover
GeM Overview
Registration using Aadhaar / PAN
Profile Updation
Brand and Product approval
Bid participation
Invoice Generation
Creating a profile,
Adding all of your products,
Uploading the photos and description of the available items
Update your profile as frequently
Ensure the best user experience for the buyers.
Q and A
Who Should Attend?
Manufacturer, Small Dealers, Service Provider, Private Traders.
Note: In order to promote greater discipline and timeliness in payment to vendors, it is decided that whenever a CRAC is auto-generated or issued by a buyer and payment id not made 10 days thereafter, the buyer organization will be required to pay penal interest @1% per month for the delayed payment beyond the prescribed timeline till the date of such payment," the department of expenditure said.
This webinar is expected to last for about 2 hours and will be addressed by an eminent speaker:  Sanjay Kumar Deharia, (GeM Expert), and He has a total work experience of 18+ Years of Industry, Bid Management and Consulting Experience. He has been associated with GeM (Govt. e Marketplace) for 4.5+ years and has trained and facilitated approx. 20000+ buyers and sellers combined. He is a certified platinum trainer. He has trained over 500+ buyer departments for the state of Uttar Pradesh & Madhya Pradesh along with PSUs like IOCL, GAIL, ONGC, Railway units and Defense organizations like DRDO, CRPF, SSB, ITBP, and BSF. He has taken capacity building sessions on GeM in major central ministries and PSUs. He has also provided handholding to GeM buyers and sellers for all issues. He is instrumental in on-boarding a lot of buyers and sellers in GeM portal and presented exceptional service in facilitation of all GeM users.
The webinar shall be moderated by Ms. Richa Bhardwaj, Advisor at Udyamita Helpline
We highly encourage you to join this important webinar to learn from one of the prominent GeM Faculty on how to effectively increase your understanding of available GeM portal options, know the advantages and disadvantages of various GeM products, and know how to qualify for a variety of E-tendering options.
For attending the webinar, kindly register yourself on the link provided below:
Free Registration Link: https://bit.ly/udyamitahelpline59
Richa Bhardwaj
9717184726
advisor@udyamitahelpline.com