Webinar on "New GST Compliance for MSME in 2023"
July 15
@
4:00 pm
–
6:00 pm
Date: 15th July, 2023
Timings: 04:00 PM TO 06:00 PM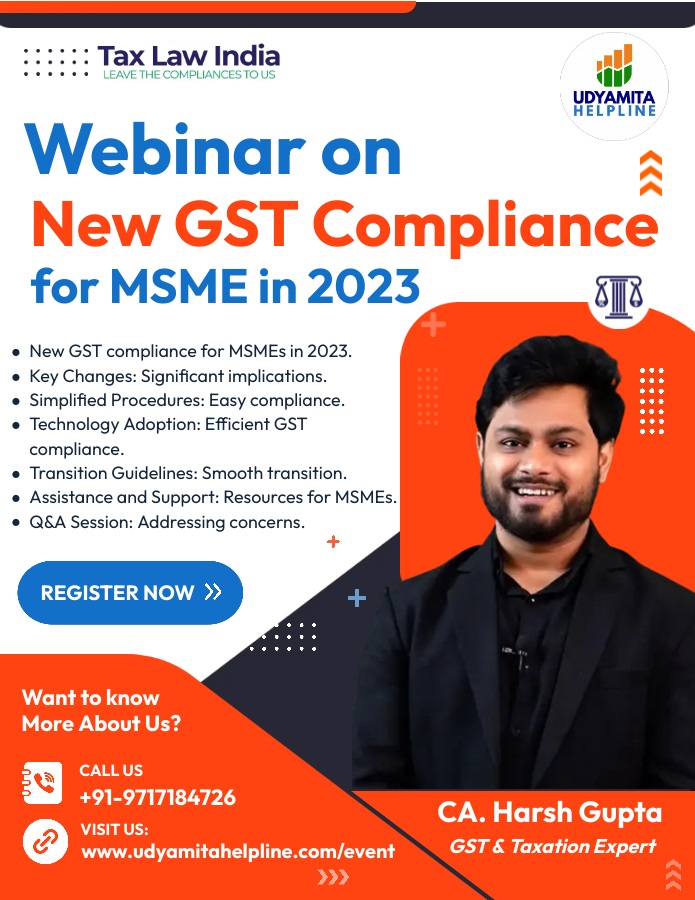 UDYAMITA HELPLINE, with a view to educate MSMEs on a large scale and to provide effective measures to their problems, is organizing a Webinar on "New GST Compliance for MSME in 2023" on July 15th, 2023

Join our upcoming webinar on the topic of "New GST Compliance for MSMEs in 2023" to stay updated on the latest regulations and requirements. This webinar aims to provide MSMEs with comprehensive insights into the changes in GST compliance and their impact. We will discuss the key updates, including simplified procedures designed to ease the compliance process for MSMEs. Emphasizing the importance of technology adoption, we will explore digital tools that can enhance efficiency in GST compliance. Additionally, we will provide guidance on smoothly transitioning to the new framework and offer valuable assistance and support resources. Don't miss this opportunity to gain clarity, ask questions, and equip your business for seamless GST compliance in 2023.

The agenda of this webinar is to educate MSMEs on the following:
Introduction: New GST compliance for MSMEs in 2023.
Key Changes: Impactful updates and implications.
Simplified Procedures: Streamlined processes for easy compliance.
Technology Adoption: Encouraging digital tools for efficient GST compliance.
Transition Guidelines: Smooth transition to the new framework.
Assistance and Support: Resources and help for MSMEs.
Q&A Session: Addressing participant queries and concerns.
This webinar is expected to last for about 2 hours and will be addressed by an eminent speaker CA. Harsh Gupta, GST & Taxation Expert. Experienced professional with a demonstrated history of working in GST and Audits. Strong entrepreneurship professional worked at Big Four consultancy firm. Skilled in Corporate Trainings, Internal Audit, Statutory Audit, Due Diligence, Bank audits, Cash Flow Monitoring, Special Monitoring Agency and information system Audits.

The Webinar shall be moderated by Ms. Richa Bhardwaj, Advisor at Udyamita Helpline.

Join our essential webinar on GST compliance for MSMEs. Learn expert strategies to address delayed payment issues and recover payments efficiently. Gain valuable insights to optimize your GST compliance and ensure timely payments. Don't miss out on this opportunity to streamline your business and overcome compliance challenges.
Please register at the following link to join the webinar as pre-registration is mandatory
Free Registration Link: https://bit.ly/udyamitahelpline78
Richa Bhardwaj
9717184726
advisor@udyamitahelpline.com
msme loan scheme for new business | government schemes for msme | government schemes for msme | who is eligible for msme loan | government subsidy loan for business | how to apply for msme loan from government | msme loan subsidy | msme loan subsidy | national small industries corporation |