Webinar "The Ultimate Sales & Marketing Leads Generation for MSMEs"
December 5, 2022
@
4:00 pm
–
6:00 pm
Date: 05th November, 2022
Timings: 04:00 PM TO 06:00 PM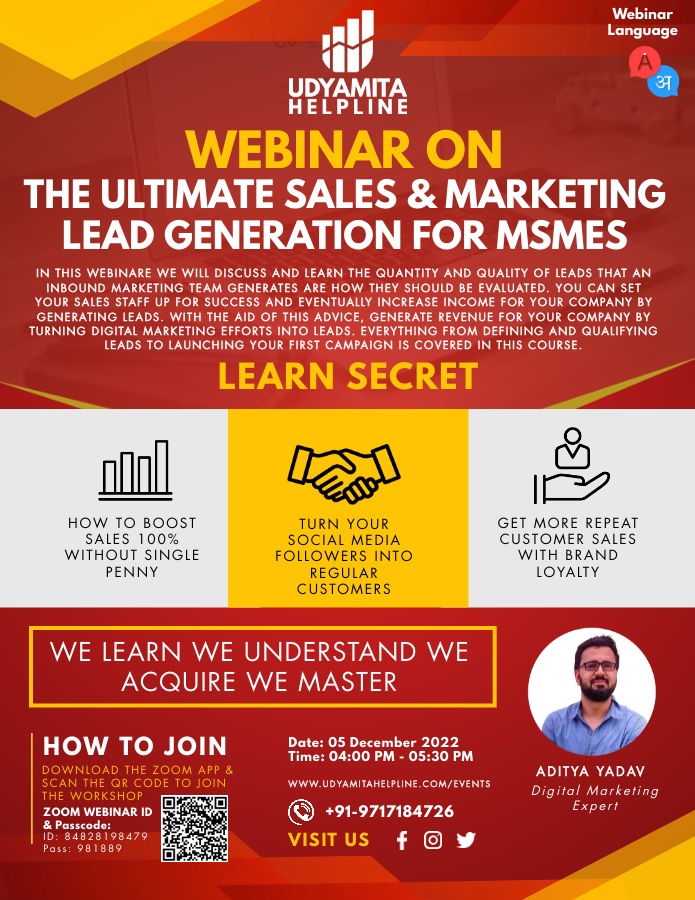 UDYAMI HELPLINE, with a view to educate MSMEs on a large scale and to provide effective measures to their problems, is organizing a Webinar on "The Ultimate Sales & Marketing Leads Generation for MSMEs" on December 05th, 2022.
In this webinar we will discuss and learn the quantity and quality of leads that an inbound marketing team generates are how they should be evaluated. You can set your sales staff up for success and eventually increase income for your company by generating leads.
With the aid of this advice, generate revenue for your company by turning Digital Marketing Efforts into leads. Everything from defining and qualifying leads to launching your first campaign is covered in this course.
This webinar also contains pointers and advice to keep you on track as you develop further lead generation campaigns beyond your initial one.
Topic To Be Covered
What is Lead and its Process
What is Sales Funnel
How To Generate Organic Leads
How To Generate Paid Leads
Inbound and Outbound Leads
Effective Lead Generation Channels
Promotion Automation
Free Tools & Tricks to Promote Business and Generate Leads
And many more…
This webinar is expected to last for about 2 hours and will be addressed by eminent speakers having rich experience in the field of providing advisory and consultancy to a large number of MSMEs including Govt. undertakings. The speakers expected to address the participants include Mr. Aditya Yadav, Digital Marketing Expert Google & Facebook Certified, 15 Years + Experience in Digital Marketing Planning.

The webinar shall be moderated by Ms. Richa Bhardwaj, Advisor at Udyamita Helpline

We highly encourage you to join this important webinar to learn from one of the prominent MSME Experts on how to effectively do your business, eradicate the learning of The Ultimate Sales & Marketing Leads Generation for MSMEs.
For attending the webinar, kindly register yourself on the link provided below:
Free Registration Link: https://bit.ly/udyamitahelpline56
Richa Bhardwaj
9717184726
advisor@udyamitahelpline.com