Webinar on "Cash Flow Management & Cash Projections for MSMEs"
April 8
@
4:00 pm
–
6:00 pm
Date: 08th April, 2023
Timings: 04:00 PM TO 06:00 PM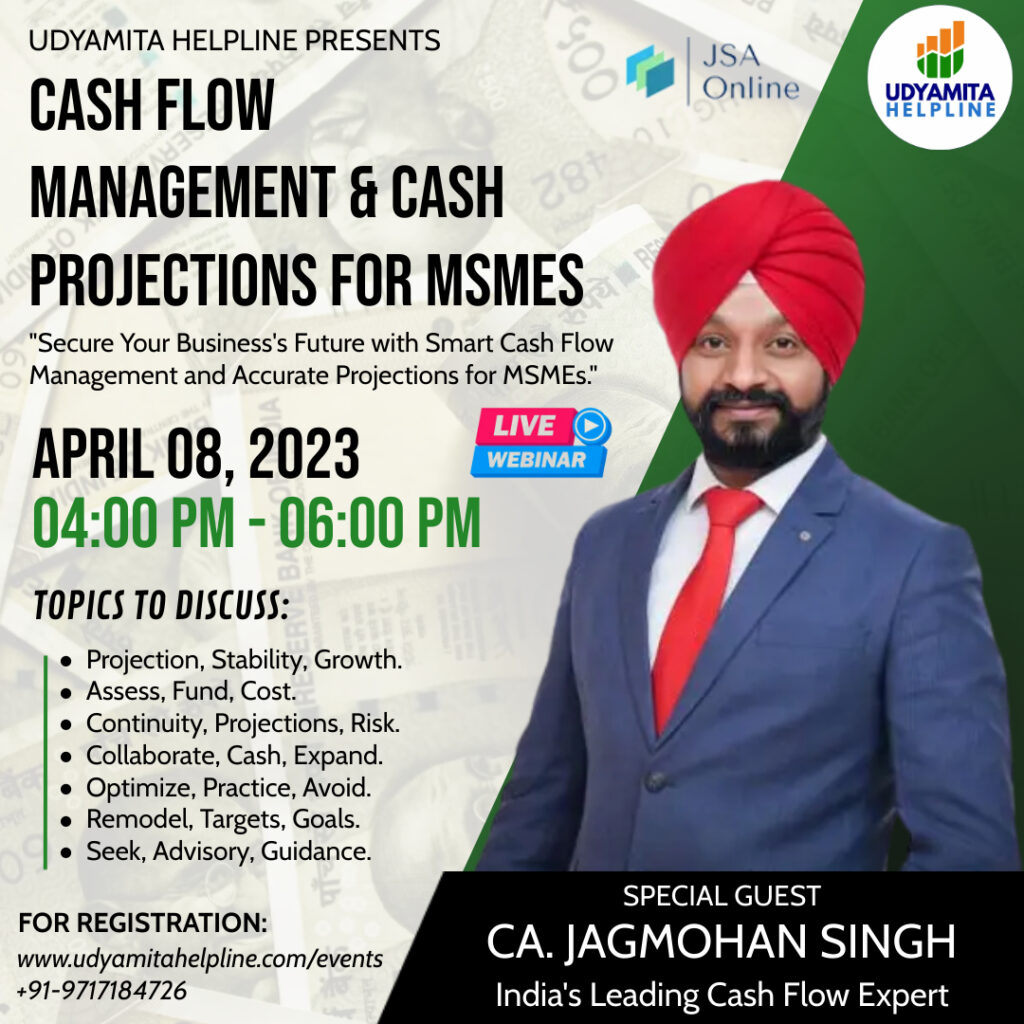 UDYAMITA HELPLINE, with a view to educate MSMEs on a large scale and to provide effective measures to their problems, is organizing a Webinar on "Cash Flow Management & Cash Projections for MSMEs" on April 08th, 2023.
This webinar will provide an in-depth exploration of the critical elements of cash flow management and projections for MSMEs. The significance of effective cash flow management for MSMEs will be expounded upon, followed by a detailed discussion of the various types of cash flows and key performance indicators to track them. Attendees will gain insight into cash flow projections, including the essential factors to consider when constructing them. The webinar will then explore advanced cash flow management strategies for MSMEs, highlighting best practices for optimizing cash flow and common pitfalls to avoid. The presentation will also provide an overview of the advanced tools and resources available to MSMEs for managing their cash flow, including government initiatives and programs. The session will conclude with a robust Q&A session, allowing attendees to ask any remaining questions and receive valuable feedback. Lastly, a call to action will encourage attendees to apply their newfound knowledge to their businesses' cash flow management practices.
When should you take an MSME loan?
Assessing the right Financial requirement of business processes
Access to right Funding at right Cost
Business continuity amid Challenges of Financial distress
Expansion of Business collaborations, partnerships and linkages
Significance of Cash Projections in Avoiding Business Risk
Role of Cash Flow Management in Ensuring Business Stability
Remodelling of Business Goals and Targets
Best Practices for Optimizing Cash Flow and Common Mistakes to Avoid
Need & Significance of Professional Advisory services
This webinar is expected to last for about 2 hours and will be addressed by an eminent speaker CA. Jagmohan Singh, (India's Leading Cash Flow Expert) is touted as India's ONLY Finance Coach who not only shares his winning strategies but also help entrepreneurs implement the same in their business. With a humble beginning Jagmohan Singh spent years on the quest to find out how money works and how could we make our business cash-rich. He has exemplary expertise in the arena of Cash Flow Management and System Setups in Accounts & Finance. In past 20 years, he has worked with more than 879 business owners in India & abroad and helped them reach their financial goals with many practical financial tools. He is also an author of bestselling book "Financial Freedom with Financial Control", which has helped scores of people find their financial nirvana.
The Webinar shall be moderated by Ms. Richa Bhardwaj, Advisor at Udyamita Helpline.
We highly encourage you to join this important webinar to learn from one of the prominent MSME Experts on how to effectively increase your understanding on Cash Flow Management & Cash Projection for MSME.

For attending the webinar, kindly register yourself on the link provided below:

Free Registration Link: https://bit.ly/udyamitahelpline68
Richa Bhardwaj
9717184726
advisor@udyamitahelpline.com