Webinar on "Delayed Payment Recovery to MSMEs – Challenges and Solutions"
April 15
@
4:00 pm
–
6:00 pm
Date: 15th April, 2023
Timings: 04:00 PM TO 06:00 PM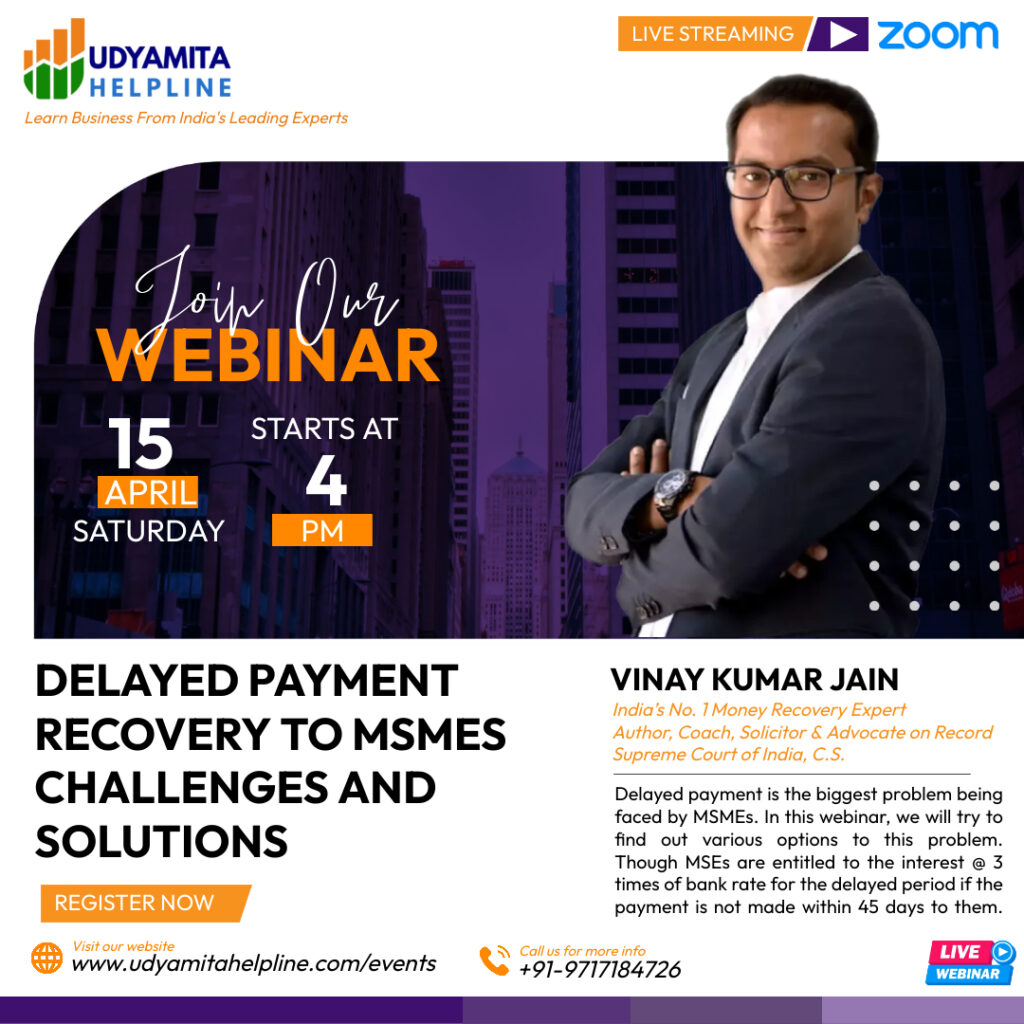 UDYAMITA HELPLINE, with a view to educate MSMEs on a large scale and to provide effective measures to their problems, is organizing a Webinar on "Delayed Payment Recovery to MSMEs – Challenges and Solutions" on April 15th, 2023
Delayed payment is the biggest problem being faced by MSMEs. In this webinar, we will try to find out various options to this problem. Though MSEs are entitled to the interest @ 3 times of bank rate for the delayed period if the payment is not made within 45 days to them. However, still they are not able to recover even the principal amount in many cases.
MSMEs are struggling for their payments from Government and private companies in many cases. Though there is no full proof solution for this problem, this webinar will try to find some alternate solutions.
In order to resolve this issue and to promote entrepreneurship and development of MSMEs, the Ministry of MSME established the Micro, Small and Medium Enterprises Development Act ('MSMED Act') in 2006 wherein one of the salient features was section 15 which mandates the buyer to make payment of the goods bought or services taken within a stipulated time frame, not exceeding 45 days. Further, Section 16 stipulates charging of interest, compounded on a monthly basis, at three times the bank rate on default till the date of actual payment.
The agenda of this webinar is to educate MSMEs on the following:
Issues of Delayed Payment to MSMEs.
How contracts help in case of future default.
How to do proper documentation of the opposite party.
Guidelines for delayed payment of dues to the MSME borrowers.
Rights and Benefits of the MSME Industry under MSMED Act.
Steps to be taken in case of filing an application before MSEFC for non-payment of the dues by the buyer.
Ways to protect your case for future litigation.
Recoveries under other Acts.
Where to approach in case of default: MSMED Act or other tribunals / Courts?
Role of TReDS in Timely Payments to MSMEs.
Question and Answer Session.
This webinar is expected to last for about 2 hours and will be addressed by an eminent speaker Adv. Vinay Kumar Jain, Supreme Court Lawyer & Recovery Expert. He is a qualified Solicitor, Lawyer, Company Secretary, and holds the distinction of being the youngest qualified Solicitor of India. He is also an Advocate-on-Record before the Hon'ble Supreme Court of India. He possesses a well-rounded national and international experience, including working with premier corporate law firms of India servicing various international corporations and Law firms with global presence, as well as High courts and Supreme Court of India. He has acquired expertise in advising business owners, MSMEs, corporates in payment recovery matters, taxation and GST laws, contract negotiations and closure, strategizing litigation matters, and transactional advisory. He also possesses substantial experience in representing clients in high stakes, litigation in different tax cases across different forums like NCLT, MSEFCs, GST Departments, Tax and GST Tribunals, High Court and Supreme Court of India.
The Webinar shall be moderated by Ms. Richa Bhardwaj, Advisor at Udyamita Helpline.
We highly encourage you to join this important webinar to learn from one of the prominent MSME Experts on how to effectively do your business, eradicate the problems of delayed payment and to recover your delayed payment in no time.
Please register at the following link to join the webinar as pre-registration is mandatory
Free Registration Link: https://bit.ly/udyamitahelpline69
Richa Bhardwaj
9717184726
advisor@udyamitahelpline.com
what are the guidelines for delayed payment of dues to the msme borrowers | msme delayed payment act pdf | rbi rate of interest for delayed payment to msme | msme delayed payment interest rate | msme payment rules 2022 | msme payment rules 2022 | msme samadhaan | claims settlement proceedings | delayed payments legal remedies